UK-based NeverNoT's co-founders and creators, Nina Dzhokhadze and Natia Chkhartishvili, recently joined forces with Italian-born jewellery artist Ilaria Lanzoni, former Design Director of Hearts On Fire and Garrard Fine Jewellery, to create a vibrant collection, The Life In Colour, which was launched on Moda Operandi last week.
In an email chat, Nina revealed the journey of co-creating the collection, which is so appealing to one's senses. It also establishes the fact that life is a celebration, and it must go on – locked down or otherwise!
After many years in the luxury industry, NeverNot's founders, Nina Dzhokhadze and Natia Chkhartishvili decided to join forces to authentically honour their love and dedication to high-quality jewellery for everyday life. NeverNoT is the translation of pure passion to precious pieces. The brand is based in London but just like the creators behind it, lives and travels all over the world. 

Nina Dzhokhadze and Natia Chkhartishvili
If you were to describe NeverNoT in two words, what would those be?
'Always On' – that's the philosophy pivoted around the name and our brand, because we believe that jewellery shouldn't spend most of its life in a box. 
We are dedicated to making high-quality jewellery for everyday wear. NeverNoT is the translation of pure passion to precious pieces. Though we are based in London, we travel extensively all over the world.  
The joyful collection crafted in 14-karat yellow gold is dressed up with various colours of topaz and bright enamel. The line represents 'love through the eyes', symbolising protection and connection… Life is beautiful, especially in colour!
So how do you achieve that in your creations?
Our jewels are a joyful symbol of escape, embodying cultural exploration, the meeting of new people and meaningful interactions; we are always inspired by adventure.
We are often called 'Happy Jewellery' which is the perfect representation of our philosophy. Jewellery should bring happiness and joy and it's our mission to create piece of happiness for our clients.
Tell us about the birth of the collection and why did you rope in Ilaria for the project?
During the pandemic, we felt more than ever that we need a piece that we wear all the time without taking it off, something small, talismanic but at the same time very colourful and cheerful as our NeverNoT pieces. 
We would get on a call with Ilaria during summer 2020 to create perfect eye – positive, colourful and happy eye for everyone with price-point lower than $1,500 to make entry point for NeverNoT.
What is the story behind the eye collection?
We designed the eye ring for NeverNoT in March 2020, and presented it during the Paris Fashion Week as a new piece. It became our buyer's favourite piece straight away. As soon as we returned from Paris to London, the world went under a total lockdown, offices and workshops shutting down and retail stores closing for an uncertain period of time.
So, we just had social media channels left – the eye ring was selling online all the time during the lockdown, and retail customers were happy to wait for its delivery for uncertain times and that supported us massively.
We realised that, no matter that the world is on pause, we have designed a piece which is so loved that organically it needed continuation and that's how we teamed up with super talented Ilaria – our good friend. The combined strength, passion and forces helped us create the capsule collection 'Life in Colour'.
So the collection was directly linked to the pandemic…
Yes, it was directly linked to the pandemic as during the lockdown we were in constant touch … throughout the creative process we kept motivating each other and had an enormous amount of fun together!
We managed to sketch, draw, sample, produce and shoot during very challenging times and seeing how the collection is selling in the past two days since its launch – it's an unbelievable success!
The Life In Colour retails at $1,445. Each pendant has a little secret — we have created the back of the pendant in a way that the owner can engrave the initials, date and personalise it for themselves or for the loved ones.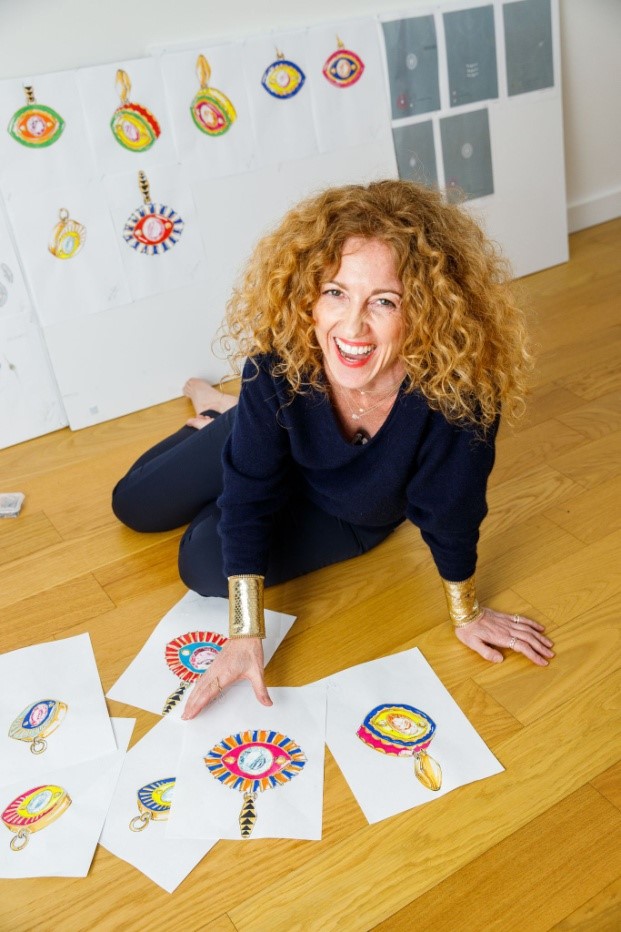 Italian-born Ilaria Lanzoni has a wealth of experience – she worked for 25 years as Design Director of Hearts On Fire (HOF), and before that was Garrard Fine Jewellery's Head of Design. In her early days, she also worked closely with the famed Stephen Webster. Here's what she told Solitaire International about conceiving the collection with NeverNoT.
"I 'loved' every minute of it! Having worked exclusively with diamonds for many years, I had the opportunity not only to express myself in colour but to show my versatility as a designer. 

The fact that we are all from different countries, working under unprecedented circumstances, was a big challenge … but challenge is what keeps creativity going! The NeverNoT girls are bold and colourful, just like their jewellery, and teaming up with them kept me motivated, and for sure kept me smiling, throughout all of 2020!